Message from the Hospital Director (Shin Koga Hospital)
Message from the President of Shin-Koga Hospital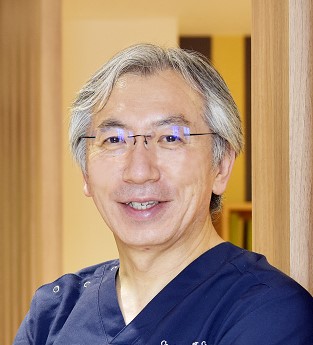 Shin Koga HospitalPresidentTomohiro Kawasaki, M.D.
Social Medical Corporation Tenjinkai has grown as a comprehensive medical group and provides medical services in collaboration with Shin-Koga Hospital, Koga Hospital 21, Shin-Koga Clinic, Nobusuma Clinic, Hebaru Clinic, and among others, Koga Care Avenue (a comprehensive welfare facility for the elderly).

Our Philosophy
・Providing Medical Care that Supports Lifelong Well-being. We are committed to serving the community and providing the best medical care through our team-oriented medical services.
・We pride ourselves in actively pursuing excellence and devoting ourselves to the next level of accomplishment in providing our patients with superior medical care while attending to people's needs with warmth and compassion.
・We embrace progress in medical care and continuously strive to improve upon it. We aspire to lead the way in both advanced and emergency medical care in the greater Chikugo region and continue pushing the boundaries in providing our patients with the safest, most advanced medical care.
Within this setting, Shin-Koga Hospital plays a central role in the Tenjinkai Group, working tirelessly to provide emergency and advanced medical care 24 hours a day, 365 days a year. Having been approved as a Regional Medical Care Support Hospital in April 2010, certified as a Japan International Hospital (JIH) in August 2018, and certified as meeting the functional assessment of the latest hospital practices (3rd generation, version 2.0) in January 2019, among other milestones, we are continually developing our patient-centered medical care by deepening cooperation between group affiliates and collaborative examinations. In addition to our long history of providing local and regional medical care, we look forward to caring for the increasing number of overseas patients who visit our facilities.

As a team-based medical system, the different centers that make up our institution, including the Cardiovascular and Rhythm Center, and the Stroke and Neurology Center, are centralized by their department to ensure excellence in medical and technical skills. We believe communication to be of fundamental importance, and we strive to eliminate barriers between our centers by fostering strong lateral communication resulting in safe, reliable, top-quality medical care. Another part of our resolve to provide the best possible medical care is our investment in technology. In recent years, we have built a reputation for proactively adopting cutting-edge technologies such as the "Da Vinci" robotic surgery and transcatheter aortic valve replacement (TAVR) to ensure our patients receive minimally invasive treatments.

We, the Tenjinkai staff, strive to uphold the three S's of medical care; service, sincerity, and safety (study), in our quest to ensure patients receive exceptional medical care with a smile. We pride ourselves on making every effort to satisfy and earn the trust of our patients, the community, and cooperating medical affiliates with our dedication to high-quality medical services. We do all this under the banner; Providing Medical Care that Supports Lifelong Well-being.
---